BOSBO 3.0 – Surface Water Management System
Client

Hoogheemraadschap van Rijnland

Partners

Deltares, Actemium, Hydrologic

Year

2017-2019

Location

Leiden
Het oppervlaktewatersysteem van het Hoogheemraadschap van Rijnland wordt aangestuurd door watersysteembeheerders in het veld en door een zestal waterpeilbeheerders op kantoor. Hierbij wordt gestreefd naar een zo gelijkmatig mogelijk waterpeil, of het nu hard regent of dat het al een hele tijd droog is.  Hierbij wordt gebruik gemaakt van een nieuw softwaresysteem voor de operationele sturing van de het oppervlaktewater: BOSBO3.0.
The challenge
Het beheer van het waterpeil is voor het Hoogheemraadschap zeer belangrijk, want Rijnland ligt voor een groot deel onder de zeespiegel. Op sommige plekken soms wel zeven meter. Daarbij zijn er veel verschillende stakeholders met een belang bij een goede waterstand en waterkwaliteit. Doelen die gehaald moeten worden naast een gelijkmatig peilbeheer zijn onder andere een goede waterkwaliteit, een laag energieverbruik en rekening houden met vismigratie. Dit maakt een technisch uitdagend project, maar zeker zo uitdagend om de technische oplossing begrijpelijk en gebruiksvriendelijk te maken.
Our solution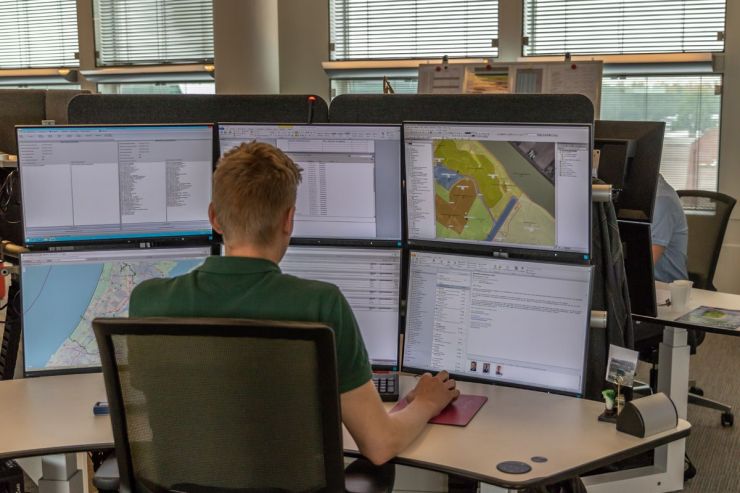 Voor BOSBO 3.0 wordt gebruik gemaakt van het optimalisatiemodel RTC-Tools ontwikkeld door Deltares. Dit model zoekt naar de meest optimale manier van sturen, rekening houdend met de verschillende doelen van het Hoogheemraadschap. Nelen & Schuurmans heeft dit model geïmplementeerd binnen het waterschap en samen met de waterpeilbeheerders het systeem en de gebruikte schermen ingericht. Hierbij is gebruik gemaakt van Delft-FEWS. Actemium heeft gezorgd voor de communicatie van het stuuradvies naar de gemalen en stuwen.
Bij de ontwikkeling van het systeem hebben we ervoor gekozen om veel contactmomenten te hebben en de ontwikkelingen wekelijks bij te sturen a.d.h.v. input van de gebruikers. Door deze benadering van het project is er nu een maatwerkproduct afgestemd op de behoefte van de gebruikers.
The outcome
Met het nieuwe operationele systeem kan het Hoogheemraadschap de komende jaren verder bouwen, nieuwe regelingen toevoegen en het waterbeheer verder optimaliseren.
"Samenwerking is net als een opa met zijn kleinzoon. Rijnland weet wat ze willen en Nelen & Schuurmans legt uit hoe de techniek het beste toe te passen" – Jan-Willem van Kempen (Hoofd peilbeheer)
All cases
Want to know how we can help you? Contact us now!