Flood Early Warning System for the Flood Forecasting Centre in Met Éireann
Client

Met Éireann

Partners

IMDC

Year

2021

Location

Ireland
Since the beginning of the millennium Ireland has suffered several damaging flood events. In response, the Government decided in January 2016 to establish a National Flood Forecast and Warnings Service (NFFWS). The first phase in development of this service is the establishment of a national Flood Forecast Centre in Met Éireann. 
Met Éireann is the Irish National Meteorological Service. Its mission is to monitor, analyse and predict Ireland's weather and climate and to provide a range of high quality meteorological, hydrological and related information to the public. 
In 2020 Nelen & Schuurmans has teamed up with IMDC to start the implementation of a Flood Early Warning System in Delft-FEWS. This partnership combines substantive knowledge on meteorology and hydrology in Ireland and extensive experience in the implementation and installation of Flood Early Warning Systems. IMDC was involved in the early stages of developing hydrological rainfall-runoff models and a stand-alone Delft-FEWS system.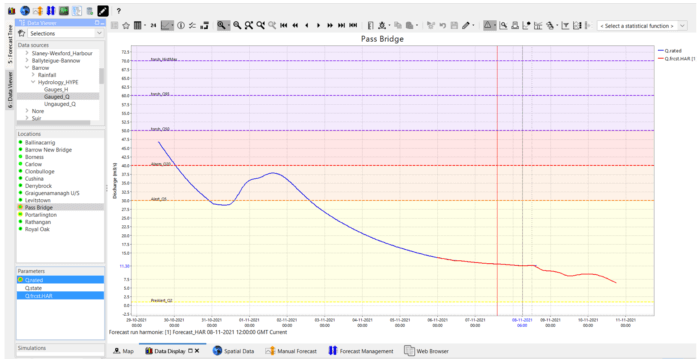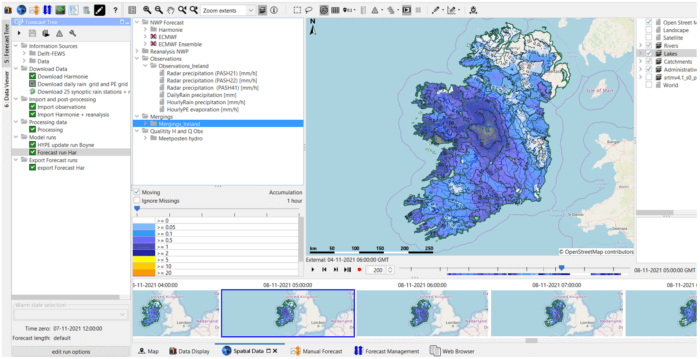 The challenge
The first objective of this project is to set up the Delft-FEWS platform for use in operational forecasting by the Flood Forecasting Centre at Met Éireann. Delft-FEWS operates using telemetered real-time rain and river data, forecast rain data, and simulates 36 catchments as individual HYPE models. Every six hours these models run NWP (Harmonie and ECMWF) deterministic and ensemble forecasts. In total, this means that the system needs to run more than 3600 simulations each day. 
The second objective is to provide Met Éireann with an end-to-end hosting service. A reliable and flexible solution able to be scaled up, cloud-based, and in place for seven years with an uptime of 99.95%. The system needs to be fully redundant and the backup system needs to be hosted at a different location. 
Our solution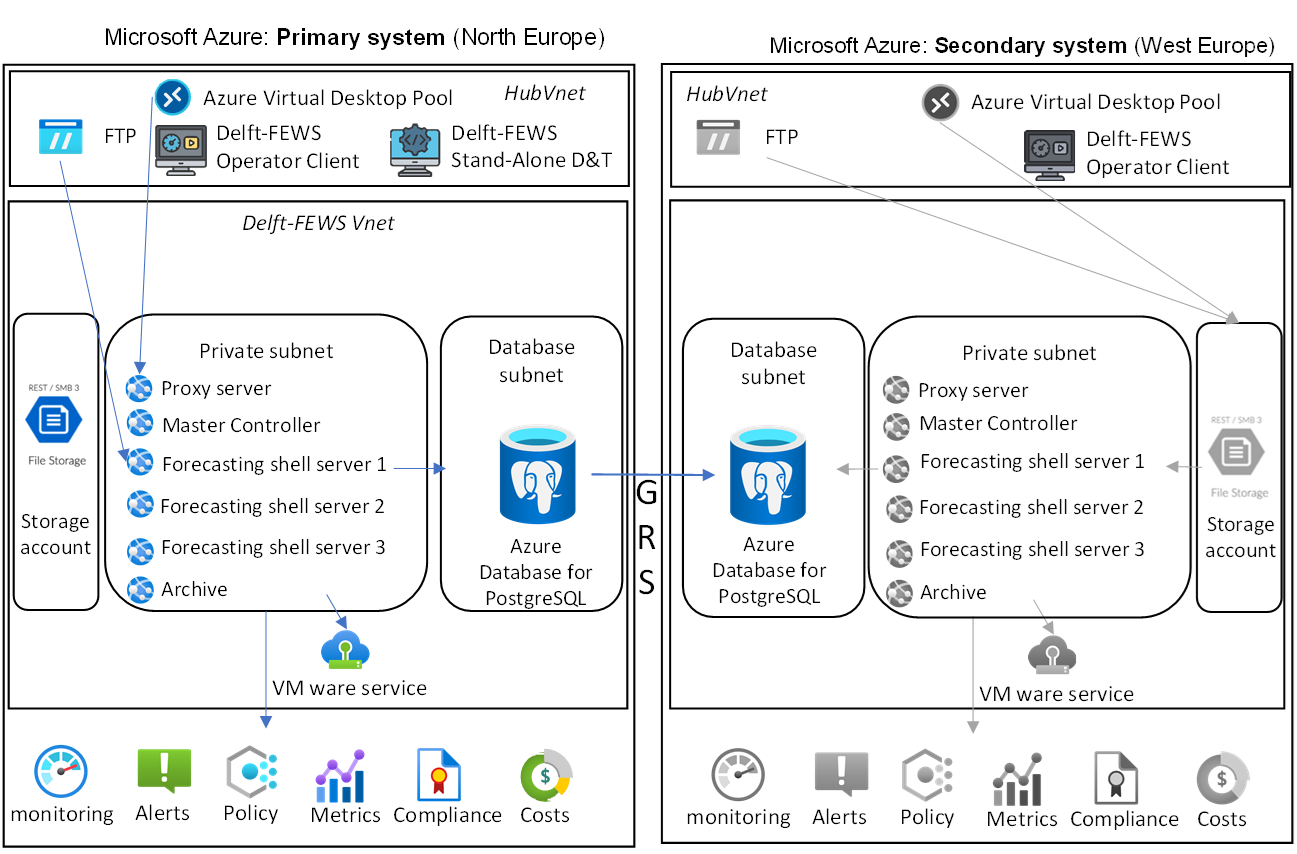 To build the system we used Delft-FEWS for importing and processing data, simulating models, and processing the results. The entire system runs in the cloud using Microsoft Azure infrastructure. Currently, two Microsoft Azure Virtual Desktops provide access to the system for multiple users who can log in simultaneously. Eight forecasting shell servers ensure that the import and forecast tasks are completed within two hours and the system is always up to date with the latest forecasts. 
Download and import data 
Observed rain > 100 stations and daily rain composite

 

Numerical Weather Prediction (NWP) ensembles and deterministic forecasts

 

Weather Radar data

 

Observed water level, discharge, and precipitation using files and web services

 
Processing data 
Validation of data

 

Merging historical and forecast datasets (fall-back mechanisms)

 

Catchment spatial averaging of rainfall grids

 
Model simulations with HYPE 
State runs every 24 hours

 

Forecast runs every 6 hours

 

Data assimilation

 
Post-processing and export 
Schematic displays and dashboards

 

Model validation and verification tools

 

Export to the external system by web services

 

Open archive

 
Model
The model software that is used is called HYPE, Hydrological Predictions for the Environment by SMHI the Swedish Meteorological and Hydrological Institute. HYPE is a dynamic rainfall-runoff model which simulates hydrological processes on a semi-distributed catchment scale. The model represents processes for snow/ice, evapotranspiration, soil moisture flow paths, and routing through rivers and lakes. 
Azure
Using Microsoft Azure means we can benefit from the following unique cloud features: 
Geo redundancy, meaning we have high availability of the system even in the event of a regional outage

 

With optimization of costs and budget planning, we can easily choose and switch between types of hardware

 

Scalability, we can easily scale up forecasting servers, add extra memory or processing capacity, or we can easily scale out, add extra servers to meet the requested performance of the system.

 

Storage in hot tiers, optimized for storing data that is accessed or modified frequently, and cool tiers, optimized for storing data that is infrequently accessed or modified.

 
The outcome
The flood early warning system is part of the National Flood Forecast Centre. The project involved capacity building and development of new skills, building a team of hydrometeorological and support staff, and the installation of related technical infrastructure. 
Since July 2021, we managed to build a flood forecasting system that is fully operational and redundant in the cloud within six months. Eight flood forecasters have completed a ten-day Delft FEWS user and configuration training course, which was held online because of the corona pandemic. They have performed user acceptance testing and are ready to start using the system in 2022. In the upcoming seven years Nelen & Schuurmans, IMDC, and Met Éireann will work together in an iterative approach the expand and develop the system to meet the requirements of the users. 
All cases
Want to know how we can help increase your organization's preparedness and resilience against floods? Reach out!