Khulna as a Water Inclusive Enclave
Client

Rijksdienst voor Ondernemend Nederland

Partners

CDR-International, Defacto Architecture & Urbanism, RoyalHaskoning DHV, Khulna University, DevConsultants and Wageningen University & Research

Year

2018-2019

Location

Khulna
Khulna is the third-largest city of Bangladesh and is considered to be one of the most vulnerable cities in the world for climate change. Located in a complex delta, the city has to deal with several water related challenges like storm surges, increasingly fluctuating river discharges, extreme rainfall events (up to 400 mm/day), and salinization of rivers, groundwater and soils. Scarcity of available fresh water, and extreme pluvial flooding have a severe impact on infrastructure, agriculture, livability and economic development.
Photo Credit © Cynthia van Elk | Water as Leverage, UNHabitat
The challenge
The approach of the multidisciplinary Water as Leverage program that we are part of, is to design systems to use water as leverage to improve social, economic and environmental conditions. The approach is in line with the goals identified in the BDP2100 (Bangladesh Delta Plan), which focuses on three distinctive subjects: water security, food security and economic development. The ambition for Bangladesh is to transform the social and economic environment from a low-income economy to the first stages of a middle-income nation by the year 2021.
Our solution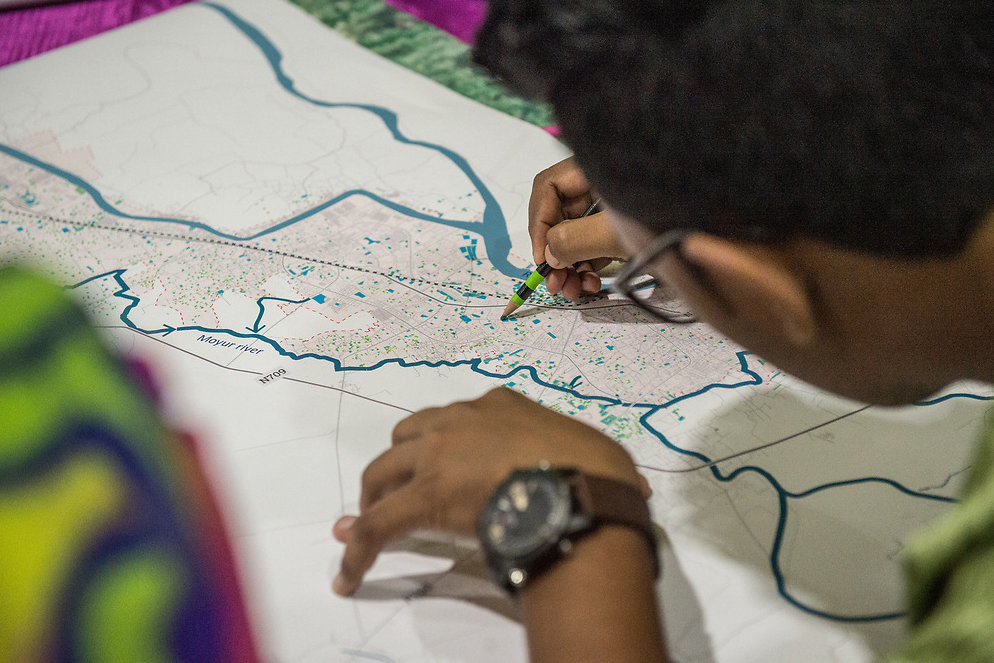 In a multidisciplinary team, Nelen & Schuurmas worked on possible solutions for Khulna. The main task of Nelen & Schuurmans was providing the team with information on the hydrological situation in the city. In the 3Di modelling software, we created a digital version of the city to simulate the effects of interventions on pluvial and riverine flooding. With the 3Di livesite, Nelen & Schuurmans organized interactive stakeholder workshops in Khulna, to explore broadly supported ways to use water as leverage towards a resilient and thriving city.
This resulted in a set of multidisciplinary pathways, including the conversion of a brackish river arm to a kilometers long fresh water storage with the creation of a linear park and new ways of transport over water. Read the full report here.
Photo Credit © Cynthia van Elk | Water as Leverage, UNHabitat
The outcome
The Moyur linear park and the other solutions are now being worked out as actual project proposals. Together with investors, businesses and the Khulna municipality we can now really get started. For us, Water as Leverage is an inspiring program, focusing on the broad positive change that can be achieved by modern integrated water management.
All cases
Want to know more? Contact us!