Living With Water: Hagonoy
Client

Municipality of Hagonoy

Partners

University of the Philippines Los Baños, MUST

Year

2020

Location

Hagonoy, Philippines
Hagonoy is a thriving coastal town in the Philippines, but faces climate resilience challenges. Together with Nelen & Schuurmans and MUST, the municipality of Hagonoy seeks a future where flooding poses less of a threat to daily life – smart flood defences, mitigative and strategic adaptive measures are necessary. A comprehensive master plan with local stakeholders is being formulated, which aims to secure a long-term sustainable future for Hagonoy. In the preliminary phase, much research was done to better understand all forces at work, physical and socio-economic. This led to the development of several strategies that are being presented to the municipality's decision makers forming the basis of the master plan which aims to secure a sustainable future for Hagonoy.
Photo credit: Angel Cruz
The challenge
Hagonoy is located on the northern shores of Manila Bay. Subsidence and sea-level rise are big threats. Flooding from sea and rivers occurs more often resulting in major obstructions to public life and the economy. Fish farming is the major source of income for Hagonoy but the farms are damaged during flood events. At the same time, the population is expanding while the available land is limited. This adds a socio-economic component to a complex technical challenge.
Our solution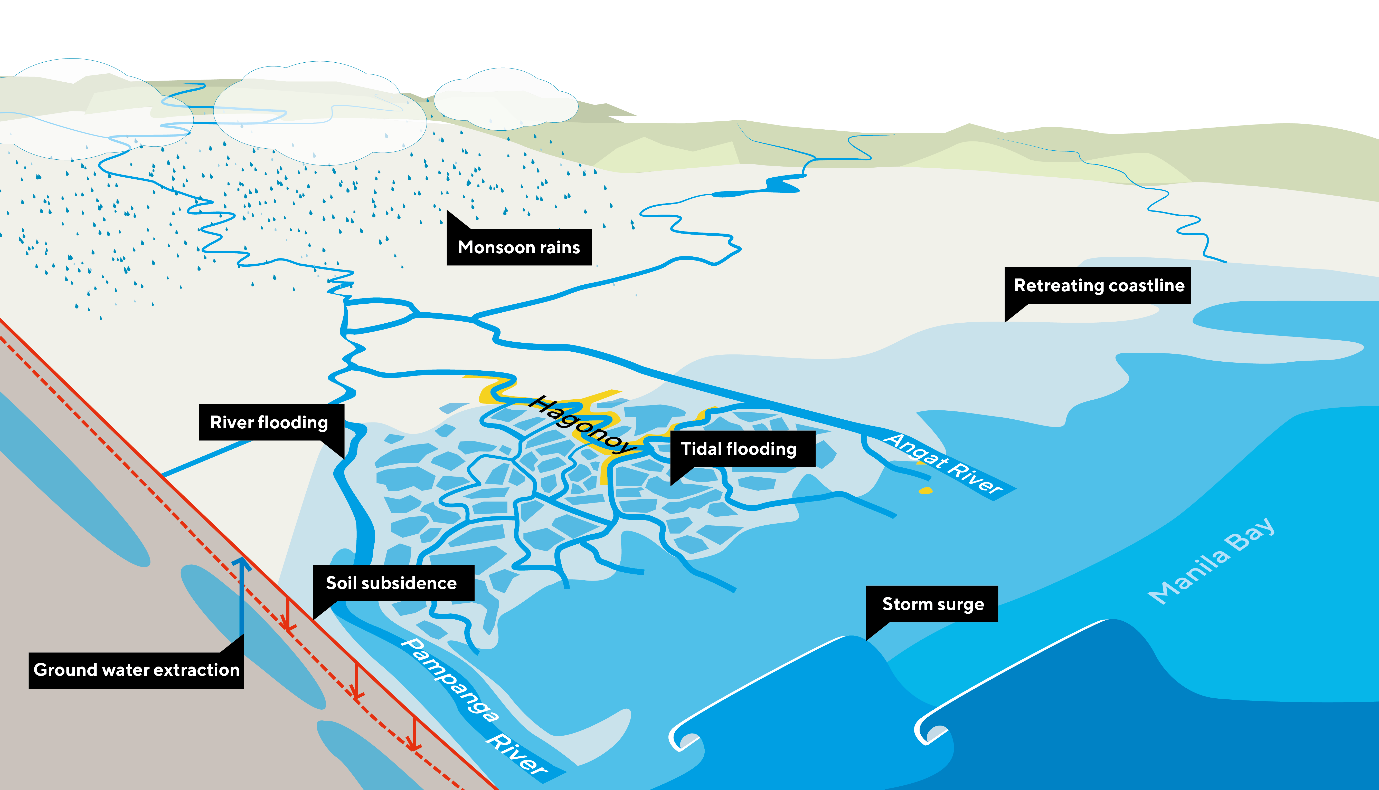 Nelen & Schuurmans and MUST have developed four strategies that can be adopted to secure the safety of Hagonoy. These strategies include (i) no intervention, (ii) adaptation, (iii) mitigation and (iv) redefined shoreline. They combine a mix of structural (flood gates, levees, culverts), mitigation (mangroves, sediment redistribution) and adaptive (buildings on poles, increased boat transport) measures. Our solutions do not only target to stop flood prevention, but also to boost the economy for the benefit of the local community. We have identified new opportunities for fishing, trading with Manila, boating hubs, and tourism. The local stakeholders have been actively involved throughout the project, such that our multi-dimensional strategies provide a sustainable future to Hagonoy with broad support of the community.
Image credit: MUST
The outcome
Our four strategies have been presented to the municipality of Hagonoy, who will decide which strategies will be included in the master plan for a sustainable and resilient Hagonoy.
All cases
Want to know more? Contact us!