Client

Engro Fertilizers

Partners

Sarvision

Year

2018

Location

Islamabad, Pakistan
The Sat4Engro project provided satellite data-based information services to the largest agribusiness of Pakistan and more than 400 of its farmers. We developed a crop growth information service that combines satellite data, geodata and field data to deliver information to be used for crop planning, irrigation,  and fertilization. The information is used to improve the value of Pakistani agricultural production and the livelihoods of hundreds of farmers across the country. Together with Engro Fertilizers, we aimed to use this innovative information technology to bring this vision to the next level.
Engro Fertilizers Head of Agribusiness Solutions Division, Mohsin Ali Mangi states: "Various stakeholders in the Agri-value chain could benefit by receiving prompt bird-eye views of crop quality over large geographic zones. Engro's eventual goal in undertaking this project is to help the farmer, the market buyer and the crop advisors in timely decision making and in the coming years lead Pakistan into cutting-edge crop monitoring practices."
The challenge
Many steps precede before a crop is found on a kitchen counter. From soil preparation to the sale on the market. Insight throughout this whole process helps agribusiness like Engro Fertilizers to make their value chain more efficient and help improve the quality and quantity of a farmer's crops. The challenge of this project was to deliver a scalable information service that enables Engro to digitalize their entire value chain and monitor crops from production to sale.  This service enables data-driven decisions that make the food production chain efficient and sustainable.
Our solution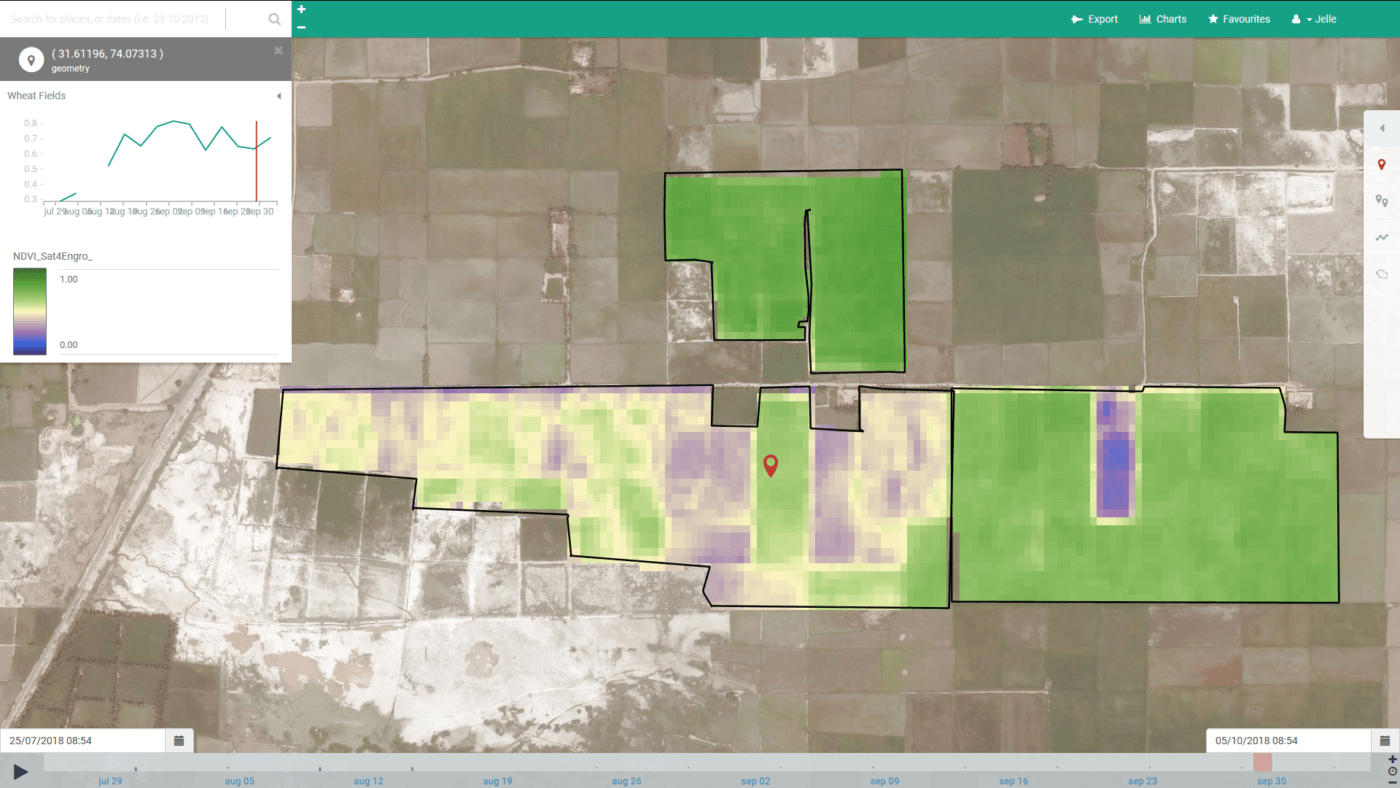 The Sat4Engro provides geospatial information services to Engro using digitally collected field data and state-of-the-art satellite imagery. For these images, Nelen & Schuurmans is supported by Sarvision, who is specialized in the interpretation of radar satellite signals.
Our Lizard platform creates valuable insights into crop performance and makes this accessible for multiple actors across Engro's value chains. We visualize the information in a personalized web portal and will develop an online dashboard that presents the tailor-made information to our client.
The outcome
We have successfully delivered a scalable and sustainable pilot product in which various data sources are gathered and processed.  With the use of the Lizard geodata platform we made it possible to deliver required information and tasks to provide the best agricultural advice.
All cases
Want to know more? Contact us!