Water Security in Lusaka City
Client

Deutsche Gesellschaft für Internationale Zusammenarbeit

Year

2018

Location

Lusaka, Zambia
Lusaka city, the capital of Zambia, is facing diverse water-related challenges. The central issue: Is there enough clean water for Lusaka, at present and in the future?
Many stakeholders already have their focus on ensuring water security, the challenge is getting them aligned. To do so an investment plan has been drawn up and we provided a strong evidence base for this plan. The story of the challenges, impacts, potential solutions, investment returns and action needed are summarized in this storymap.
The challenge
The rapidly growing demand for water by Lusaka's population and the industry is fast exceeding the supply, by both the Lusaka Water and Sewerage Company (LWSC) and the local environment. In addition to water supply challenges, issues exist with sanitation, (groundwater) pollution, wastewater, drainage, and flood protection within the city.
There is an absence of effective planning and issues are dealt with as they arise. There is a need for more cohesive planning, investment in infrastructure, and overall management of the system and its governance. Although there is a substantial focus on Lusaka's water security by many stakeholders, it lacks coordination.
Our solution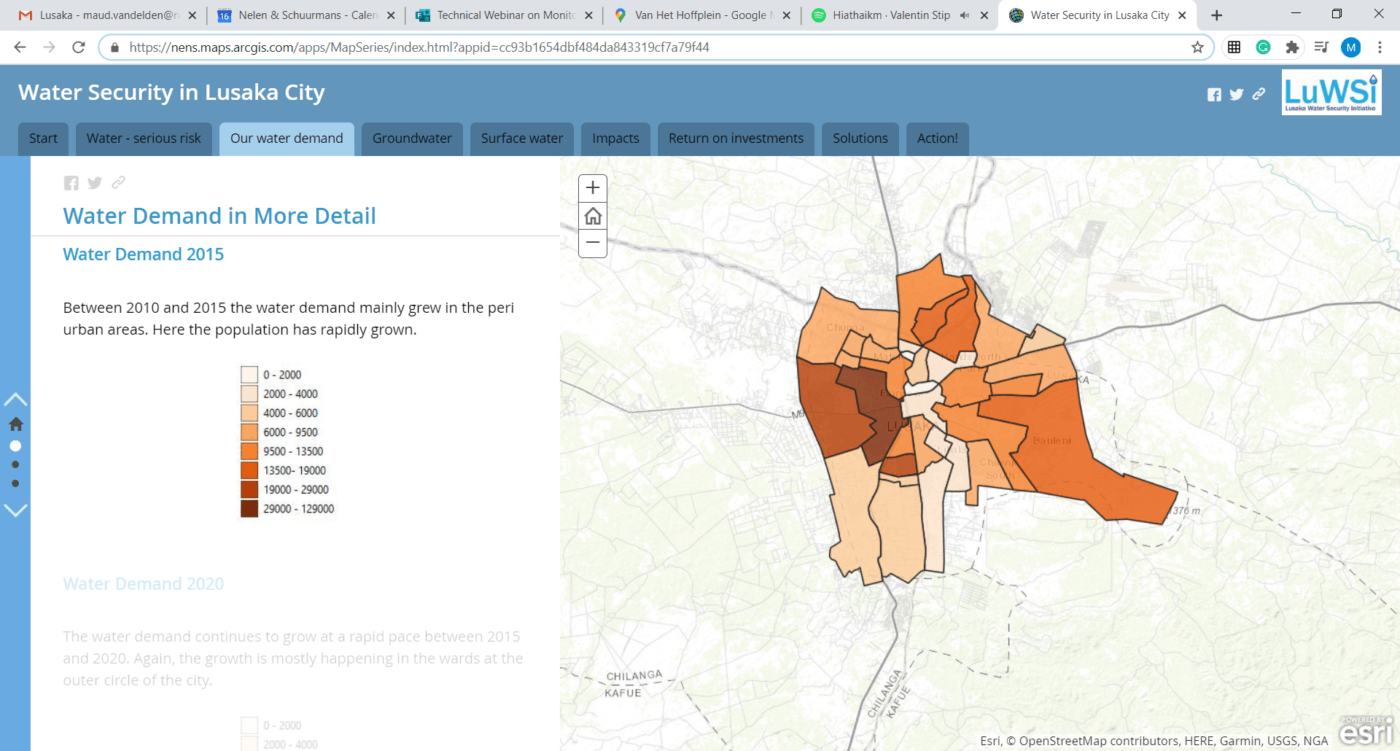 Increasing this coordination by aligning the motivations, capacities, and approaches of these different stakeholders holds an enormous amount of potential for sustainably safeguarding Lusaka's water security. For this purpose, Lusaka Water Security Initiative (LuWSI) and other partners have recognized the need to develop a concrete investment and action plan to address the city's water risks and improve the city's water security: The Lusaka Water Security Action and Investment Plan (WSAIP). To strengthen the evidence base of this investment plan, Nelen & Schuurmans developed a visually appealing online storymap that shows the case for action and investments in water security in Lusaka.
The story of water security in Lusaka city can be viewed here.
The outcome
Providing reliable information and useful suggestions helps obtaining and integrated approach for understanding and improving water security in Lusaka. The storymap tells the story of water security in Lusaka city and facilitates a more cohesive planning and larger stakeholder participation. Major questions have been addressed in this project, including:
Where are the risks of water insecurity coming from?
What are the socio-economic impacts?
How can we take action?
All cases
Want to know more? Contact us!