Dam and Dike Monitor in Vietnam
Client

Partners voor Water, RVO

Partners

WACC, MARD, CPO, VIMECO and private dam owners

Year

2010-2014

Location

Vietnam
The Dam and Dike Monitor (DDM)  is an innovative tool that aims at providing better information (in near real time) for dam and dike maintenance and flood management. An on-line interface is provided to the users showing the actual risks of dam and dike failures, based on dam and dike monitoring techniques and flood forecasting. As the Dam and Dike Monitor is internet based, there is no need to develop ad-hoc software and hardware infrastructure.
In this feasibility study, two services of the Dam And Dike Monitor are investigated: the Large Scale Map Services (LSMS) and the Risk Assessment and Monitoring System (RAMS). The LSMS provides regional maps for flood risk management to governmental agencies. The RAMS provides an integrated monitoring service on the risks of specific dam or dike locations for local operators.
The challenge
The objective of the Feasibility Study is to investigate and assess the technical feasibility and financial viability of a service that combines remote sensing, aerial platform and in-situ sensors to improve the monitoring of dam and dikes in Vietnam.
The major stakeholder and users involved in the study include:
Centre of Water Management and Climate Change (WACC). The WACC is a part of Vietnam National University HCMC (VNU-HCM).
The Ministry of Agriculture and Rural Development (MARD). Many interviews with MARD and its underlying departments were conducted in the last two years.
Central Project Office. The CPO implements projects on irrigation, drainage and water resources.
VIMECO, a large company building and operating many dams in Vietnam.
Private Dam owners. A large part of the 6,000 dams in Vietnam are maintained by private owners.
Stakeholders in dam and dike safety in Vietnam require a better technical understanding, an overview of the actual status, and reliable forecasting. For stakeholders it is important to have a better technical understanding of measured parameters that indicate dam and dike safety, like internal water pressure, deformations and holes. They require measurement equipment, but they also require knowledge of its usage. An overview of the current status of (multiple) dams and dikes was lacking. On-site monitoring equipment and Earth Observation sensors can provide valuable data. One information portal that summarizes the information can provide an overview. Forecast of weather conditions, river water levels and flooded areas can help to predict potential risks. This is required for timely evacuation or other flood management actions. Also, this is needed for the development of flood calamity plans.
Our solution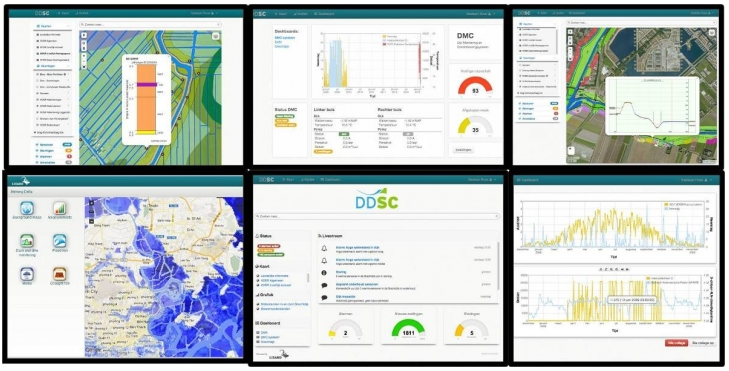 The Dam Dike Monitor provides better information (in near-real time) for dam and dike maintenance and flood management. An internet portal will display for the dams and dikes under monitoring the following parameters:
Indication of weak dam and dikes (probability of breaches)
Prediction of  flood effects and impacts: damage and loss of lives due to weak dam and dikes
Planning for intensifying maintenance or undertake structural measures on high-risk locations (based on a risk assessment; probability x effects)
Information dissemination for flood disaster management: flood propagation over time, availability roads, evacuation routes, vulnerable objects such as hospitals
As the Dam and Dike Monitor is an internet-based product, it does not demand a highly developed infrastructure in terms of hardware and software. It is therefore applicable in countries with poor infrastructure such as Vietnam. The internet portal can be adopted in flood management centers in large cities or reservoir control rooms on small rural dams. It can even be used on other devices, such as iPads. The information portal can also be expanded to other fields of water management, such as drought management, water demand and supply management and water quality management.
The Large Scale Map Services (LSMS) uses space assets to create maps services regarding flood risks on a regional scale, for national or provincial government agencies. Map services are provided for a region with multiple dams or dikes, for example like a province. Therefore, the end-users will be governmental agencies that are responsible for this region. Also, the national government could be an end-user, like the Dike Department of the Ministry of Agriculture and Rural Development (MARD). LSMS will provide the following information, on a regional or national scale:
Deformation maps;
Elevation maps;
Land use maps;
Topographical maps;
Flood scenario maps;
Potential damages and casualties maps.
The Risk Assessment and Monitoring Services (RAMS) are addressing the Dike Department of Ministry of Agriculture and Rural Development (MARD) as a primary customer but consider also other customers as private dam owners. RAMS uses LSMS as an initial process block to determine the damage impact in case of a dike or dam failures. LSMS is an integral part of RAMS to determine potential regional locations for further monitoring. In fact, RAMS offers tailor-made monitoring solutions to support the Dike Department of MARD in Vietnam on the long-term maintenance of their water infrastructure.
The outcome
The possible users and potential clients have been identified, of which the most important are the Vietnamese Ministry of Agricultural and Rural Development (MARD) and the related Dike Department. In two dozen interviews with these possible users, their needs and requirements have been discussed. These have been summarized in nine major User Requirements (UR).
During the feasibility study the concept of the Dam And Dike Monitor has been further elaborated. This resulted in the definition of two services: The Large Scale Map Services (LSMS) and the Risk Assessment and Monitoring Services (RAMS). For both these services prototypes have been developed.
Both services have proven to be technically feasible. They include state-of-the-art technologies that have proven to be very useful for the safety of dams and dikes. A cost-benefit analysis has been performed to show the commercial potential of both services.
Besides the necessary improvement of underlying technologies some non-technical constraints have been identified that need to be overcome for the services to become commercially viable:
Obtaining the commitment of the end-user
Finding a Vietnamese partner
Getting third party funding
All cases
Interested to know more? Contact us.