ESA – Earth Observation for Sustainable Development (EO4SD)
Client

ESA – European Space Agency

Year

2016-2019

Partners

Eleaf, Satelligence, ITC, DHI-Gras, GeoVille, Space-Tec

Location

North Africa (Morocco), Africa (the Great Green Wall Initiative region, Ethiopia, Burkina Faso, and Uganda), Latin America (Bolivia, Paraguay and Uruguay), Asia (Cambodia) and Middle East (Syria)
The Earth Observation for Sustainable Development (EO4SD) is an ESA-led program aimed at promoting the utilization of satellite-derived environmental data in various projects, programs, and activities conducted by the Multilateral Development Banks and their client states. It focuses on nine key thematic areas:
agriculture and rural development,
water resources management,
urban development,
climate resilience,
disaster risk reduction,
marine resources,
fragility,
conflict and security,
and the Eastern European region.
As part of this initiative, Nelen & Schuurmans has been entrusted with the responsibility of integrating and ensuring easy accessibility of data for all stakeholders involved.
The challenge
Nelen & Schuurmans took on the challenging role of Data Intergrator, working to distribute a vast and diverse set of information for a wide range of intended users. The data included maps, model outputs, and corresponding analyses related to deforestation, water productivity, habitat quality, and more. Furthermore, the spatial resolutions varied greatly across different regions, including the Sahara belt and specific countries like Cambodia.
To address this challenge, Nelen & Schuurmans utilized the Lizard platform, which proved instrumental in hosting and managing the extensive range of information. The platform's powerful API connection simplified the process of presenting, distributing, and accessing the data for various users, ensuring enhanced accessibility.
Our solution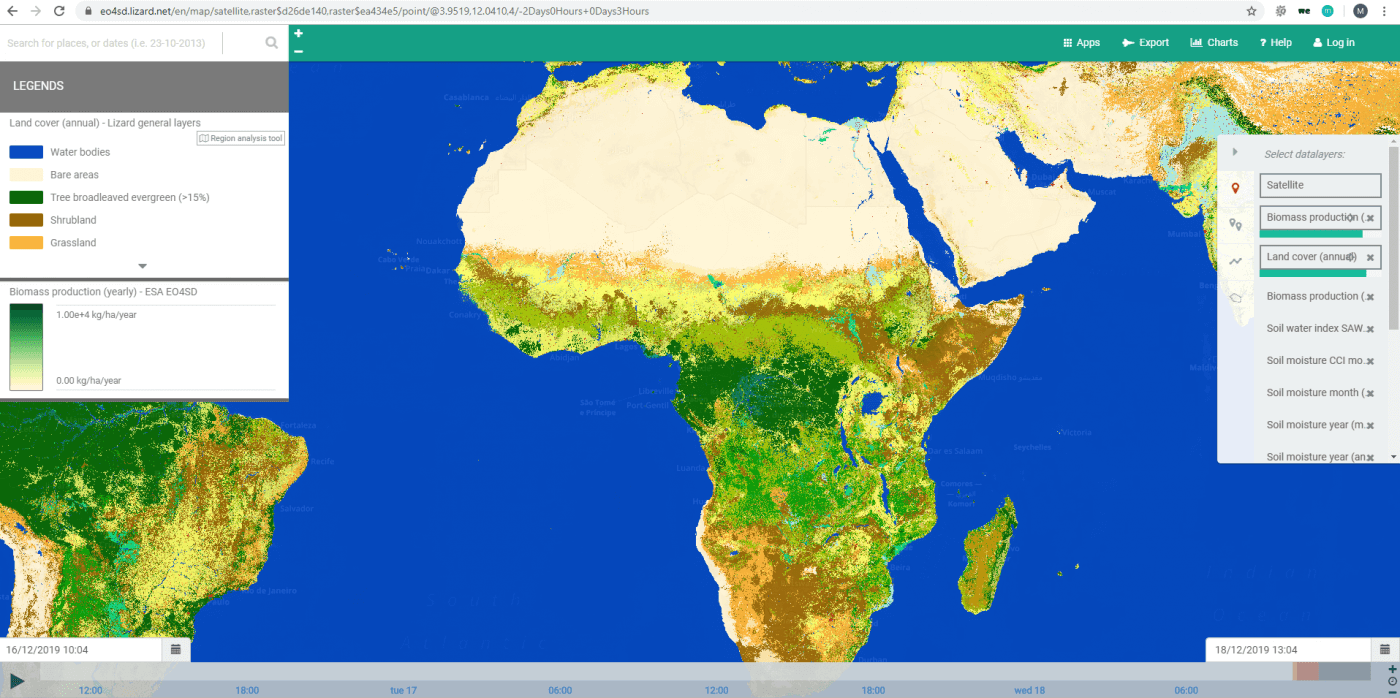 Throughout the entire project, the Lizard platform served as the central hub for accessing all the information and datasets. A dedicated sub-portal was set up for each of the 15 demonstrations conducted. To ensure a comprehensive overview of the available information, a catalogue was developed.
The catalogue greatly simplified the process of searching for specific countries, regions, data producers, and product specifics. Users could easily navigate through the catalogue to find the desired information. Additionally, all the necessary metadata information for each dataset was readily accessible within the catalogue, ensuring comprehensive information retrieval.
The outcome
Over the course of three years, the Lizard platform attracted over 1000 visitors from various countries and regions. During this period, approximately 200 personal accounts were created, and comprehensive user manuals were developed and utilized for each demonstration and capacity-building event.
During these events, stakeholders were stimulated to explore available data for their specific regions and more. In addition to data browsing, the platform's analytics capabilities were utilized, enabling users to answer questions related to the presented results. Examples of such questions included assessing changes in biomass within project areas over recent years or understanding the impact of extreme weather on water productivity trends.
The datasets encompassed approximately 240 GB of information, covering countries and regions at different spatial resolutions. To ensure the long-term availability of these datasets beyond the demonstrations, they were shared with partner organizations via our API. Notable partners and collaborations included:
World Bank: inclusion of 15 datasets including time series information in their

data catalogue

Conservation International: hosting of 55 datasets on the

Resilience Atlas

ICRAF: storing of 10 datasets including time series on the

Landscape Portal
All cases
Want to know how we can help your organization? Contact us.