WADIM: Watersystems Detection Identification and Monitoring
Client

RVO

Partners

NEO

Year

2020-2021

Location

Nederland
The world is continually changing, and so is our water system. In cooperation with NEO, Nelen & Schuurmans has developed an information service that detects changes in the water system and around dikes for water managers. WADIM, "WAtersystems Detection Identification and Monitoring" is an innovative information service that uses satellite data and GIS-analyses to detect changes and inform the waterboards and RWS about them. Examples are changes in hydraulic structures or in the profile of the channels. Through this service, water managers can gain crucial information for policymaking, carrying out water system analyses, management & maintenance and control of regulations.
The challenge
Maintaining the current state of the water system is important, but also complex. One aspect is field visits, as alterations to the water system or its surroundings are sometimes made without the consent and permission of authorities.   
These changes can have effects on the functionality of the water system, ranging from reduced drainage due to vegetation presence on water surfaces to accelerated runoff due to paving. Unrealistic water levels in mathematical models due to an unknown weir are also an effect. For many reasons, water management benefits enormously from complete, relevant and up-to-date data. This is especially the case for water boards and Rijkswaterstaat, their hydrologists, geo-specialists and supervisors working on the verification of the system. 
Examples of changes that are monitored:  
The construction of new waterways or channels

 

The erosion and sedimentation of groynes and banks

 

Missing engineering structures like weirs 

 

Greening on top of channels

 

Changing in the surface infiltration capacity

 
Our solution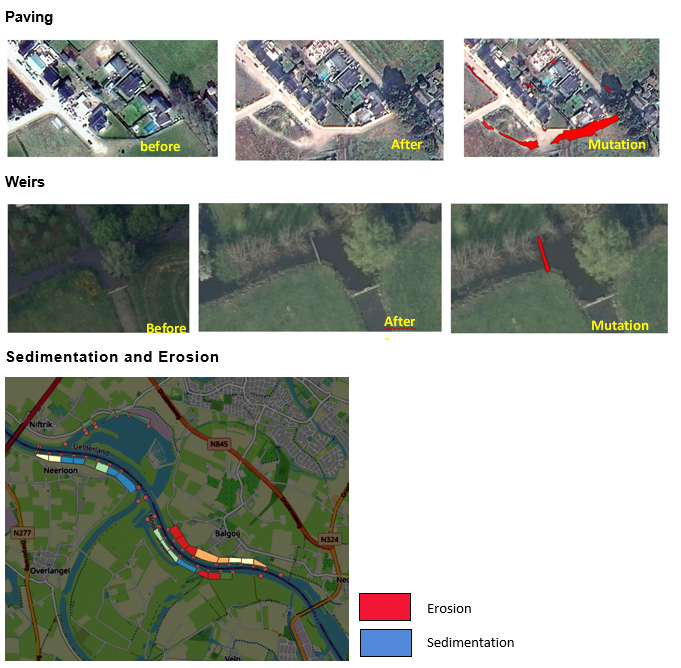 Nelen & Schuurmans and NEO have developed an online automated information service which provides water managers with insight into the changes that have taken place in and around waterways and flood defences, at least twice a month. This information service has been developed within the SBIR project of RVO commissioned by Netherlands Space Office.   
The detection of changes is based on artificial intelligence and data analysis. Remote sensing data, public data and asset management systems are the source of this information service. The identified changes will be translated into specific "Calls to Action" for the respective water operator. In a clear dashboard, the detected changes will be displayed, along with work instructions for immediate action. If a field visit is made, the outcome can be used as training data for further improvement of the algorithms. This improves the service after each field visit. Together with water managers throughout the Netherlands, we can thus create a product with an ever-improving quality. 
The results are presented in a user-friendly dashboard. The system uses our innovative DataChecker and online data warehouse Lizard. With the geodata platform Lizard the data is automatically unlocked through its own API (application programming interface). The API also makes it possible to integrate the data into your own information systems and web portals of the water boards and Rijkswaterstaat.  
The outcome
The WADIM information service is an online automated service where water managers are able to get up-to-date insights on the changes in and around the water courses and dikes. The changes are displayed on a user-friendly dashboard, along with " Call to Actions". We guarantee a smooth and user-friendly experience in combination with current API systems.  
All cases
Want to know more about automatic change detection? Contact us!