Water Availability Monitor for irrigation advice
Client

European Space Agency (ESA)

Partners

AgroVision, VanderSat

Year

2019-2020

Location

Europa
The Water Availability Monitor (WAM) is an information service providing real-time irrigation advice to farmers. This information service contributes to better crop production and more efficient water usage.
The WAM is built upon the data warehouse and analytics platform Lizard. It uses satellite images from VanderSat, sensors, geodata and hydrological modelling. The WAM is fully automated, accessible through API and integrated into AgroVision's agricultural software suite CropVision for the convenience of farmers.
The challenge
Climate change and the resulting drought pose increasing challenges in crop cultivation. The balance between discharging water in heavy rainfall and retaining water to prevent drought is under increasing pressure. Major steps have already been taken to make agriculture more sustainable. However, the drought challenges for farmers continue to grow.
Despite these evolving challenges, irrigation advisory services are hardly put into practice. An important reason is that reliable services require large investments in soil sensors. Although the purchase cost of sensors is decreasing, maintenance and regular replacement remains necessary due to environmental influences. As a result, the recurring costs are high. In addition, high-quality measurements at one location still provide poor information about larger areas. With the integrated approach of the WAM, we offer a solution to these limitations.
Our solution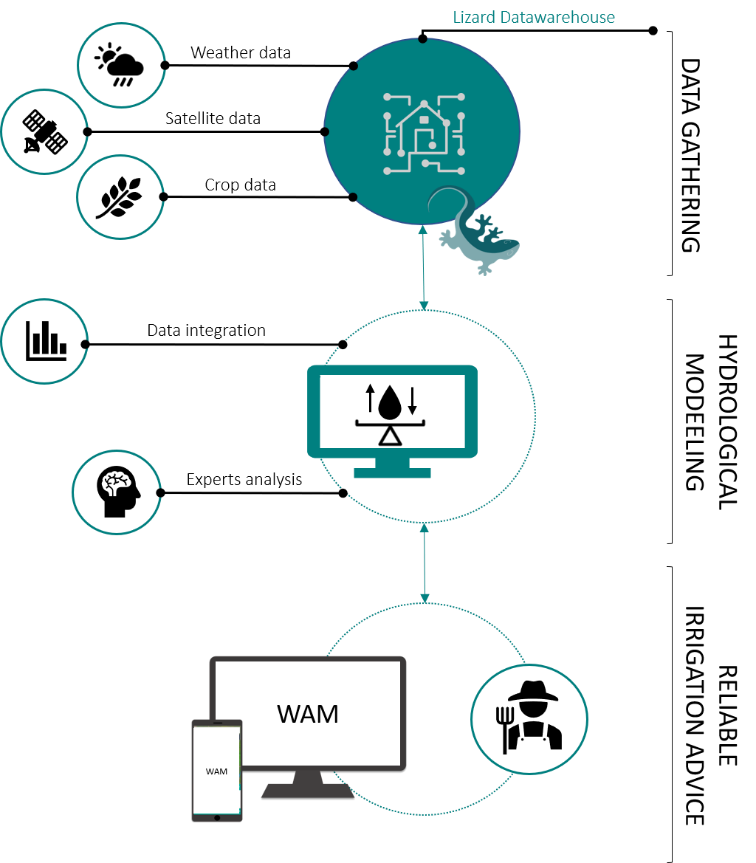 Nelen & Schuurmans, together with AgroVision and VanderSat, has developed an irrigation information service that uses high-quality satellite data and advanced hydrological models. It is possible to use field sensors, but due to our developed method they are not vital for providing reliable irrigation advice. This makes WAM a cost-effective alternative to irrigation advice based on in-situ sensors. The WAM uses state-of-the-art hydrological modelling to determine water availability at plot level. The system uses high-resolution daily satellite images as input. By combining these images with geodata, measurements and various geodata sources, reliable irrigation advice is provided. With the WAM information service, farmers are supported to retaliate against drought by providing high-quality irrigation advice.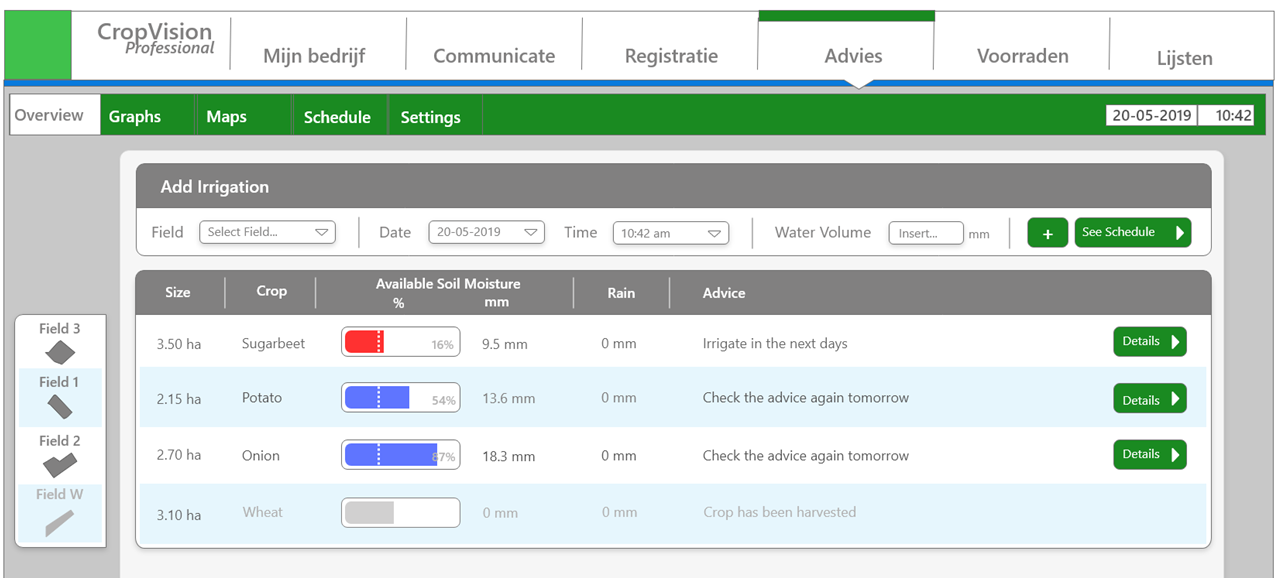 The core of the innovation in the WAM is the satellite soil moisture maps and the state-of-the-art hydrological models. The accuracy, spatial and temporal resolution of this and other geodata have improved enormously in recent years. In addition to high-resolution images, infrared, microwave and radio waves are also available that make it possible to accurately follow changes on the ground. The possibilities for monitoring water and agriculture are therefore highly advanced. The WAM model adapts to the available data and performs real-time data assimilation. As a result, it is able to provide detailed results for many types of crops.
The outcome
The successful launch of WAM in 2021 fulfils a need for accurate and affordable irrigation advice. By using professional software, the service is robust, reliable and scalable. Our experienced support team ensures continuous support for WAM users.
The WAM benefits farmers along with the entire community:
Farmers can improve their irrigation planning through the predictive power of the WAM.
The available water is used more efficiently because the advice recommends optimal irrigation.
The WAM saves farmers valuable time because they can better plan their irrigation times.
Irrigation costs for farmers are reduced because the WAM ensures a more efficient irrigation regime.
The obtained insight into water use can also contribute to improving water management practices. It also gives water managers insight into water availability on a regional scale. For the agricultural sector, the service also provides insights into early trends in seasonal yields.
All cases
Want to know more? Contact us.